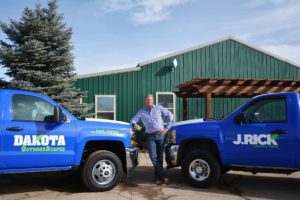 J. Rick Lawn & Tree's number one goal is to provide customers with the most complete, detailed, thorough lawn and tree healthcare services and distinguish ourselves as a cut above in both quality and value.
In order to be the premier lawn care and tree healthcare professionals in the Colorado Springs area, we believe that perception is important. Showing up to a customer's property in a clean, organized truck, dressed professionally, and face to face contact are what set us apart as a lawn and tree healthcare company.
Our mission is to consistently deliver visible results that reveals quality and value and to be able to anticipate and respond to customer needs, responsibly and knowledgably. Also, to be conscientious of the products we apply and the services we provide to instill customer trust and retention.
Our state certified technicians have the highest level of training which allows them to expertly provide the best possible services at your home or business. Additionally, J. Rick partners with trusted green industry professionals to be able to provide our customers with superior products designed for our local climate.
We care about keeping you up to date with live and local information. We strive to provide you with updates pertaining to weather/environmental conditions and how they may affect your landscape, so that you may make the most informed decisions about your property.
Jon Rick
Jon has been in the lawn and tree industry in Colorado Springs since 2004. In this time he has gained extensive knowledge on local climate conditions, soil types, and how proper applications and products will allow clients to have the best possible results from a lawn service. He has continued his quest for knowledge by earning Certified Landscape Professional (CLP) and Certified Turfgrass Professional for Cool Season Lawns (CTP-CSL) through the national organization, NALP. Jon is also a Qualified Supervisor in Turf, Ornamental, and Industrial Right of Way through the Colorado Department of Agriculture. He earned a B.S. in Business Finance from the University of Colorado at Colorado Springs in 2006.
Jon is actively involved in the community and landscape industry. He is actively involved with the Associated Landscape Contractors of Colorado Southern Chapter, which has completed over $100,000 in charity landscape projects in Colorado Springs in the last 6 years. In 2012, Jon was given the Outlook Emerging Leader Award by the ALCC for his significant contributions to the landscape industry. Jon was also named Rising Star by the Colorado Springs Business Journal in 2010 and Young Entrepreneur of the Year in 2015 by the BBB & SBDC. Jon has contributed to multiple articles, and has been featured twice in the national publication, Lawn & Landscape Magazine. He enjoys taking time to mentor others in the landscape industry.
Lauryn Delgado
Lauryn has worked in several different industries and her attention to detail and need for organization has allowed her to contribute to the success of many small businesses. She enjoys the diverse day to day tasks that come with working in an office as well as creating and maintaining successful working relationships with clients and vendors. Lauryn's enthusiasm for learning and helping others is what makes her great with client relations as well as her peers. Lauryn has worked with J. Rick since August of 2016.
Lauryn grew up in in Monument, CO and is excited to be back in this beautiful state and have the opportunity to raise her daughter here. In her free time she enjoys traveling to different cities to explore, hiking, camping, spending time with friends and family.
Premier Lawn Care Technicians
All of our technicians are required to complete 60 hours of classroom, instructional, and on the job training per year. J. Rick Lawn & Tree, Inc. is a licensed Commercial Applicator. Additionally, all of our technicians are Certified Operators through the Colorado Department of Agriculture.