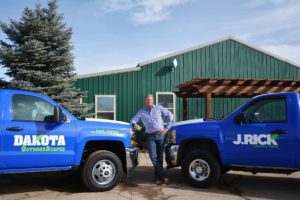 J. Rick Lawn & Tree's number one goal is to provide customers with the most complete, detailed, thorough lawn and tree healthcare services and distinguish ourselves as a cut above in both quality and value.
In order to be the premier lawn care and tree healthcare professionals in the Colorado Springs area, we believe that perception is important. Showing up to a customer's property in a clean, organized truck, dressed professionally, and face to face contact are what set us apart as a lawn and tree healthcare company.
Our mission is to consistently deliver visible results that reveals quality and value and to be able to anticipate and respond to customer needs, responsibly and knowledgably. Also, to be conscientious of the products we apply and the services we provide to instill customer trust and retention.
Our state certified technicians have the highest level of training which allows them to expertly provide the best possible services at your home or business. Additionally, J. Rick partners with trusted green industry professionals to be able to provide our customers with superior products designed for our local climate.
We care about keeping you up to date with live and local information. We strive to provide you with updates pertaining to weather/environmental conditions and how they may affect your landscape, so that you may make the most informed decisions about your property.
Jon Rick
Owner (CLP, CTP-CSL)
Jon has been in the lawn and tree industry in Colorado Springs since 2004. In this time he has gained extensive knowledge on local climate conditions, soil types, and how proper applications and products will allow clients to have the best possible results from a lawn service. He has continued his quest for knowledge by earning Certified Landscape Professional (CLP) and Certified Turfgrass Professional for Cool Season Lawns (CTP-CSL) through the national organization, NALP. Jon is also a Qualified Supervisor in Turf, Ornamental, and Industrial Right of Way through the Colorado Department of Agriculture. He earned a B.S. in Business Finance from the University of Colorado at Colorado Springs in 2006.
Jon is actively involved in the community and landscape industry. He is actively involved with the Associated Landscape Contractors of Colorado Southern Chapter, which has completed over $100,000 in charity landscape projects in Colorado Springs in the last 6 years. In 2012, Jon was given the Outlook Emerging Leader Award by the ALCC for his significant contributions to the landscape industry. Jon was also named Rising Star by the Colorado Springs Business Journal in 2010 and Young Entrepreneur of the Year in 2015 by the BBB & SBDC. Jon has contributed to multiple articles, and has been featured twice in the national publication, Lawn & Landscape Magazine. He enjoys taking time to mentor others in the landscape industry.
Dana Zeh
Office Manager
Dana moved to Colorado Springs in 2018 from Orlando, Florida where she lived for over 20 years. Dana has a degree in Accounting from Valencia College in Florida and has been working with small businesses for the last 10 years. Prior to this she worked in the Airline Industry for over 10 years converting passenger aircraft to cargo aircraft as an accountant project manager. Dana started in the lawn care industry in 2019.
Dana enjoys spending time with her family, camping, hiking, and being outdoors.
Carrie Ybarra
Service Manager
Carrie's family just relocated to the Colorado Springs area from Augusta, Ga. She previously worked in the lawn care industry back home. When not at work Carrie enjoys spending time outdoors with her family and dogs.
Kevin Sabins
Kevin grew up in Ohio and earned a Bachelor of Science degree in Business Administration at Bowling Green State University. He began his career in lawn and landscape maintenance in Denver in 1979 with Barefoot Grass Lawn Service. Kevin went on to own and operate a Barefoot Grass franchise in Colorado Springs for 11 years, and a Scotts Lawn Service franchise in Colorado Springs for 14 years.
Kevin is an ISA Certified Arborist and a Certified Turfgrass Manager. He has also completed the El Paso County Extension Master Gardener program. He has served as president of Colorado Arborists and Lawn Care Professionals and the Rocky Mountain Turfgrass Research Foundation. Being from Ohio, Kevin has remained a Cleveland Browns fan and has served for 25 years as president of the Pikes Peak Browns Backers, a local non-profit and group of Browns fans who raise money for local charities.
Premier Lawn Care Technicians
All of our technicians are required to complete 60 hours of classroom, instructional, and on the job training per year. J. Rick Lawn & Tree, Inc. is a licensed Commercial Applicator. Additionally, all of our technicians are Certified Operators through the Colorado Department of Agriculture.
Greg F.
Senior Lawn & Right of Way Technician
Greg is originally from Hannibal, Missouri. During his time in Missouri he worked at Roland Outdoor for 3 years where he grew to love all aspects of lawn care. Greg attended heavy equipment operating school in Dothan Alabama, before moving to Colorado Springs. Greg has been in the lawn care industry since 2011.
He likes fishing, riding motorcycles and good food.
Lynn W.
Senior Licensed Tree Technician
Lynn was born in Little Rock, Arkansas and moved to Colorado at the age of 10. Lynn's desire to workout doors and improve people's outdoors spaces prompted him to pursue a career in landscaping. He has been working in the Lawn Care industry for over 18 years, when he started at TruGreen in 2002. He became QS licensed in 2010 for turf & ornamental.
Lynn's hobbies include hunting and taxidermy.
Ryan M.
Senior Licensed Lawn Technician
Ryan recently moved to the Colorado Springs area from St. Louis, Missouri. He came to J. Rick lawn and tree with 5 years experience in the green industry. Ryan is excited to be apart of a new team maintaining beautiful lawns. 
When not working he enjoys being outside, gardening and goes on hikes any chance he gets. If he's at home you'll find him playing with my dogs. 
Tyler M.
Senior Licensed Lawn & Tree Technician
Tyler was born and raised in Crawfordsville, IN.
After graduating from Purdue University in 2012 with a B.S. in Geology and Geophysics he worked for Purdue University installing a seismic network for the OIINK experiment.
In 2016 he relocated to Colorado Springs and followed his passion working outdoors. With multiple years of mowing and landscaping experience, he shifted his focus to the lawn and tree industry. He earned his Certified Operator license in 2018 and became a Mauget Certified Applicator in 2019.
With his background in environmental studies he has a passion for learning, educating, and helping others achieve their best landscapes.
Ken
Ken has lived in Colorado Springs for 42 years. He earned his Bachelor of Arts in English and a Master of Arts in Educational Leadership. Ken served as an educator for 30 years and has since retired.
Being a lifelong garden buff, Ken worked part time as a lawn tech and a tree & shrub specialist at a local Scotts Lawn Service franchise for 4 years. He is pleased to join the J Rick team.
Chris H.
Chris Heinrich is a lawn care technician. He started lawn and tree care working at a garden shop. Before that he spent 4 years in the Army. Originally from Clarkston Michigan moving to Colorado springs in 2013. Chris enjoys fishing, hiking, and walking his dogs in his spare time.
Paul R.
As a personable and friendly person, Paul brings positivity to the J. Rick team. His military background also helps him maintain a high level of efficiency and diligence to every task.
When not helping clients with their lawns, he can be found exploring the great outdoors and enjoying all that nature offers. 
Paul other passion is computers and technology and is currently pursuing a degree from Colorado Technical University.
Sean L.
Sean grew up in upstate New York but has been in Colorado for the past ten years. He attended college at the university of northern Colorado in Greeley, co.
In his free time, Sean enjoys playing rugby and getting outdoors to go hiking and camping with his wife and two dogs.